MIA's Lighted Dancers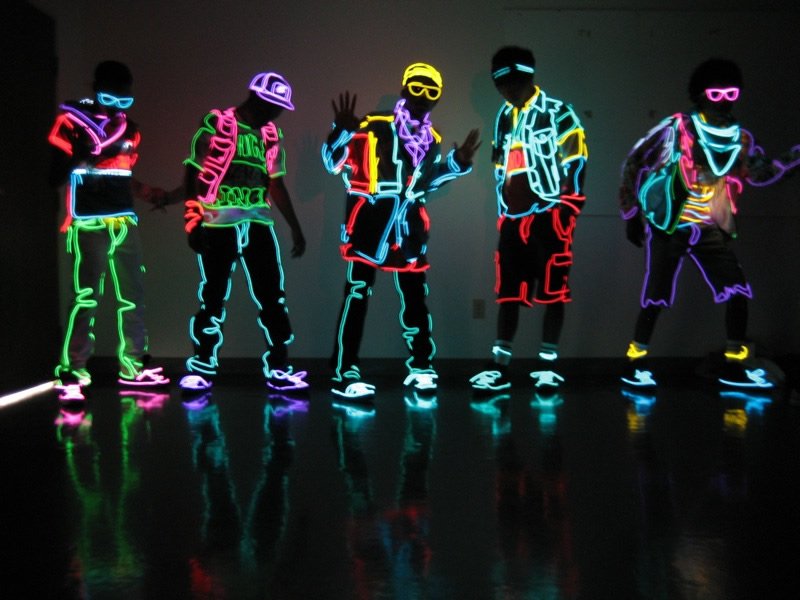 Multi-color electroluminescent (EL) wire outlines
Hand-sewn to jackets, shirts, pants, shoes, scarves, sunglasses, hats and other accessories
2009
---
Janet Hansen was commissioned to create illuminated costumes for M.I.A.'s performance on the main stage at the Coachella Music Festival in April 2009. EL wire was installed on a variety of pieces of clothing for lead singer Maya Arulpragasam and five backup dancers, as well as accessories for several other members of the band.
Maya's first outfit included a military-style hat, sash, epaulets, and glowing "medals", all created with EL wire. Then she changed into a more casual t-shirt and sunglasses with EL wire accents. Both outfits included EL-outlined acid wash jeans, wristbands, and shoes.
The dancers' suits were outlined in multiple colors of EL, with an intentionally "loose" aesthetic that made them appear to be live dancing versions of a sketch.
video
The video below shows scenes from rehearsal.
Other examples of Janet Hansen's wearable LED work can be seen at enlighted.com.