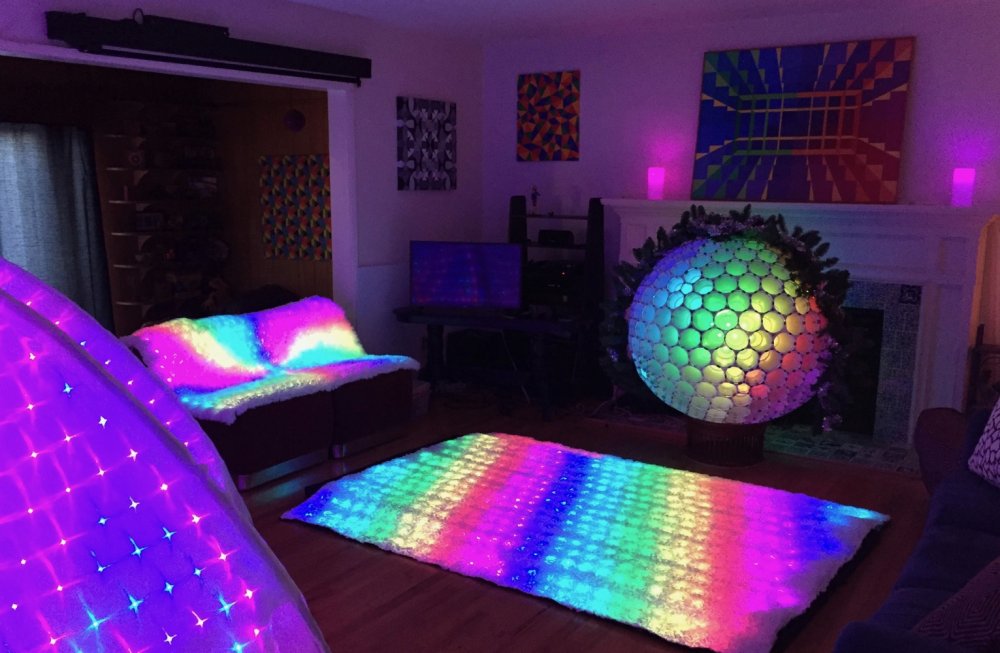 Eighteen years ago this week (on January 25, 2000), I registered enlighted.com and started the process of converting my lighted clothing side projects into a full-time business. Soon after that, I quit my day job, founded Enlighted Designs, Inc., and chose Chief Fashion Engineer as my new title.
The new business kept me so busy that I did not have time to paint for many years, and my daily activities designing lighted clothing gave me enough of an artistic outlet, anyway.
In the past few years, I've returned to painting, and have also been creating more non-wearable art, in the form of wall hangings and installations. Technology has finally advanced to a point where it is feasible to create abstract geometric patterns with individually addressable RGB LEDs on flexible surfaces. I'm able to create patterns that are similar to my early paintings, with the added bonus that they can be animated, and also worn.
I recently re-launched this website (janethansen.com), to show the interconnections between my paintings, wearables, and other illuminated art. To celebrate the new site, and the 18-year milestone for Enlighted, I hosted an art show at my home in Encinitas, CA, on January 27, 2018.
The show, "18 Years of Enlighted," featured several pieces of lighted art, including the Enlighted Comforter, the Escape Pod, the Big Ball O' Mike's Cups, and the Magic Carpet. I also had a variety of lighted garments on display.